Outdoor Kitchens/Rooms
"Outdoor living space" has become an industry buzzword over the past few years, as the popularity of outdoor kitchens and other outdoor rooms has increased. Your outdoor living space design/build needs continuity so that your home "flows" together from the inside to the outside. It's important that your outdoor addition does not appear (aesthetically) or work (functionally) like a "bolt on" or afterthought. Rather, a well-planned and carefully constructed outdoor living space will benefit you and your family, while adding square footage, curb appeal, and financial value to your home. Did you know that according to "Remodeling 2018-19 Cost vs. Value Report"  from www.costvsvalue.com a backyard patio project nationally returned over a 55% ROI upon resale!  That is above and beyond the value you will get daily enjoying your new "Dream Backyard."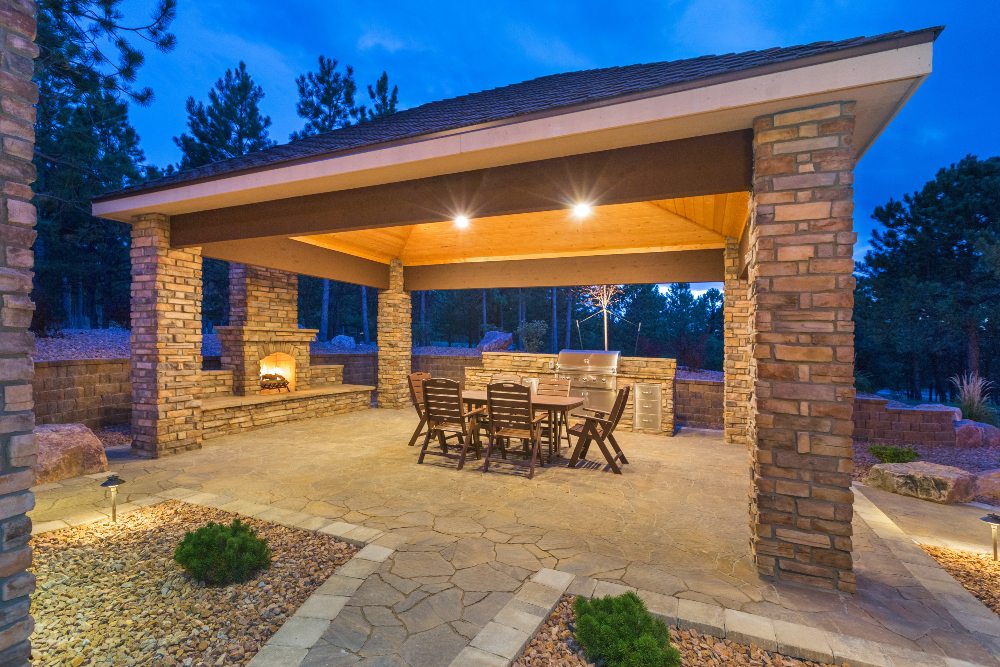 Whether it's an elaborate outdoor kitchen with wet bar for entertaining or a simple covered patio with a fire pit or Chimenea, we can craft an outdoor living space unique to you and a place to enjoy for years to come.
Landscape Lighting
The icing on the cake for your custom landscape package is lighting. Technologies in lighting have exploded in recent years. Landscape lighting beautifies your landscape and home, adds security, and lets families and friends spend a few more hours each day enjoying your new outdoor garden. Whether you need lighting for safety to and from your car, or you just to see that beautiful birch tree we planted in the back corner, We can help you choose from a wide variety of outdoor lighting products to best suit your needs.
Fire
Fire elements are one of the most sought-after amenities in home gardens.  Whether you choose, a built-in element with a chimney, rustic wood burning firepit, or an elegant fire glass table, the possibilities are endless.  We typically install Warming Trend™ burners and while more expensive in cost, typically last up to 5 times longer than traditional stainless rings.  The flame looks more natural, and there is less "Whistling" with it than other types.  See comparison video Here
Contact Blue Ribbon Landscapes in Caldwell for a free estimate or to schedule services today!
- Andy & Carla
Home Federal Bank