Weekly Mowing, Edge, Trim, and Blow Off Debris
Attention to detail is always key when maintaining a nicely manicured lawn.  Our crews mow, edge, trim, and blow off debris on a weekly basis.  The mow patterns are alternated weekly to reduce compaction and rutting where possible.  Our mowers are equipped with full-floating decks for difficult terrain, as well as striping kits to maintain a professional, manicured appearance.  Sidewalks and roadsides are edged with metal blade edgers and string trimmers are used to edge along tree wells and planter beds to help them keep their shape and deter grass from encroaching.  Blue Ribbon always strives to deliver professional care while maintaining any property whether it be residential, commercial, or an HOA. "Perfection" is not just a slogan, Blue Ribbon is always in the pursuit of excellence, which has been our motivating force for over twenty years.

We serve Nampa, Caldwell, and Treasure Valley Area.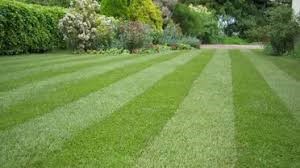 Schedule with Blue Ribbon Landscapes - Idaho's Best!
Our courteous, professional employees work with skill and passion, and we constantly strive for perfection. Call today to schedule the best landscape services in the Treasure Valley.
- Andy & Carla
Home Federal Bank