About Blue Ribbon Landscapes
Mission
To design, craft, and manage unigue gardens. To add equity to our client's property while working with skill and passion, constantly striving for perfection.
CRAFTSMANSHIP • INTEGRITY • ATTENTIVENESS • CONSCIENTIOUS
Blue Ribbon Landscape & Maintenance, Inc. was formed in 1999 in Nampa, Idaho as a full-service landscape maintenance company for residential and commercial clients. Blue Ribbon now serves more than 250 residential and commercial customers across the Treasure Valley.
Services include weekly lawn care services, landscape maintenance services, tree and shrub care, aeration and fertilizer application, personal gardening, irrigation maintenance, landscape design & construction, and more (see our Services)
Our maintenance programs are geared toward complete landscape management versus a "mow-and-go" approach. Our plant healthcare program is one of the best in the valley and includes organic soil-enhancing products. We emphasize water management, and encourage you to consider our Evapo-Transpiration system (download) – a sprinkling/water usage program that can cut water use by 30%.
Blue Ribbon's landscape construction projects focus on natural design elements, tailored to client preferences. Projects include pavers (patios, walkways, etc), brick and rock retaining walls, water features, irrigation design and installation, rock gardens, large scale plantings, landscape lighting and outdoor living spaces.
We're intently focused on customer value: always targeting the lowest price while using state-of-the-art equipment and employing skilled and certified technicians to deliver unmatched quality workmanship. Hence our motto: "The relentless pursuit of perfection."
Hans is the President of Blue Ribbon, he started the company back in 1998 with the motto "The relentless pursuit of perfection," he's always striving to provide Blue Ribbon customers with an experience they can't get anywhere else.  Hans has the following certification and licenses; Certified Landscape Technician, Certified Arborist, Nursery/Florist License, Chemical Applicator License and he was elected to the Idaho Nursery and Landscape board of Directors and became INLA'S president in 2019.  When not running Blue Ribbon you can find Hans involved in at least one of the following outdoor activities: Archery, camping, fishing or white water rafting with his family.
Alicia is the Office Manager; she joined the Blue Ribbon team summer of 2014.  With several years of experience in Office Management, she is able to ensure that our customers receive the quality service they've come to expect while ensuring that the Blue Ribbon Office runs effectively and smoothly giving our customers a pleasant and professional experience.    When not working Alicia enjoys spending her time traveling, her favorite spot to visit each year is Las Vegas.
Administrative Assistant/Human Resource
Nellie joined the Blue Ribbon Team in summer 2017 as an Administrative Assistant.  She's the friendly professional voice behind the phone being the first point of contact for anyone calling into Blue Ribbon.  She helps keep the office in order while providing the best customer service available.  January of 2020 Nellie became Blue Ribbons Human Resource.   When Nellie is not answering phones and helping out others in the office you can find her spending time with her girls, or doing anything that requires being on the road.
Tim is the Shop Manager and has been with Blue Ribbon since spring 2014.  Tim's main focus is to keep all the trucks and equipment up and running ensuring that we are meeting our client's schedules.  When not been kept busy maintaining the shop, he has his Applicator License through the Idaho Department of Agriculture and will lend a hand to the Plant Healthcare Department.  On his downtime Tim likes to take adventurous trips through Idaho's wildlife fishing and hunting.
David has been with Blue Ribbon from the start, he is currently the Maintenance Department Manager.  David's knowledge and upbeat professional attitude make him an asset to Blue Ribbon.  He keeps the crews motivated, making sure that all the properties are up to par and provides quality customer service to Blue Ribbon's customers.  When not in the office you can find David either out at his property where he takes care of several animals or out and about in the great outdoors where he enjoys mountain biking, hiking and archery.
Scott has been with Blue Ribbon since the Spring of 2019. He comes to us with an extensive lawn care background. It Is his meticulous attention to detail which has brought him to where he is today.   Scott works in conjunction with the crew leaders to make sure the work contracted Is implemented efficiently and according to Blue Ribbon standards.  He knows his properties and spends much of his time making sure they look their best.  If anything needs to be done out in the field, he is our go-to man.  When not pushing for excellence Scott enjoys being outdoors. Regardless of the season, he will find something to do whether it be hunting, dirt biking, or shooting.
Efrain has been with Blue Ribbon since spring 2007.  One of his many talents is the ability to focus on detail, leaving our customers with a finely manicured lawn.  Efrain's positive outlook and attitude make him an ideal leader at Blue Ribbon.  When not cutting and trimming lawns you can find Efrain playing soccer with friends.
Everado "Lalo" Arizmendi-Trujullo
Lalo joined Blue Ribbon in the Spring of 2014, he quickly worked his way up to Maintenance Crew Leader.  Lalo has an eye for doing a quality job while always having a smile on his face.  When not busy at work he spends time with his family and taking care of his animals on his farm.
Raymundo came onboard at Blue Ribbon in the Spring of 2012.  Even though Raymundo runs a tight ship and pushes his crew to perform to the best of their abilities, he always polite and has earned the respect of all employees.  When not working at Blue Ribbon Raymundo works on his family's avocado orchard in Mexico.
Pablo joined Blue Ribbon in Spring of 2011. Pablo is a motivated crew leader always striving for perfection in the lawns that he cares for.  When not working Pablo takes care of several rental properties he owns and enjoys tending to his vegetable garden and grape vines.
Jildardo has been a part of the Blue Ribbon family since 2016.  Jildaro has been running his own crew since  Spring of 2019.  He has proved himself as a strong leader with high attention to detail and his speed is unmatched. When not at work Jildardo enjoys BBQing with his family.
Wade has been with Blue Ribbon since the Spring of 2019.  Wade has been working in lawn maintenance for over 25 years.   With all his experience he is able to maintain properties and keep them looking great.  When we need someone who pays attention to detail and do the job accurately, he is our guy.  When not at Blue Ribbon Wade enjoys cooking and spending time with his family and friends, and likes keeping his garden maintained. 
Angel has been with Blue Ribbon since 2016.  Angel is our maintenance crew leader, he has several year's experience in pruning and maintenance.  Angel enjoys delivering an exceptional finished product and growing relationships with our clients.  When Angel isn't working you can find him spending time with his wife and kids.
Carlos has been with Blue Ribbon since spring 2014, he is currently the Landscape Project Manager.  He has an excellent eye for detail and has a wide range of landscaping knowledge.  His leadership and communication skills go above and beyond.  Carlos' knowledge and expertise, along with being ICPI certified provides our customers with a great finished product they can show off for years to come.  When he's not working Carlos enjoys spending time with his family, they like to travel along Idaho and Oregon.  When they're not traveling you can find Carlos in his backyard cooking and enjoying time with family and friends.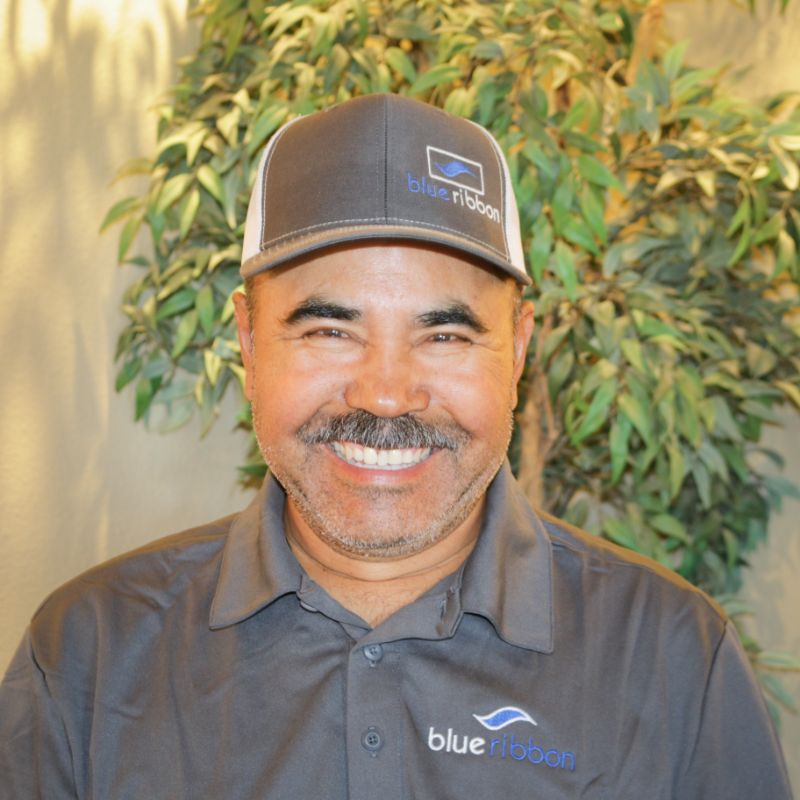 Miguel is a Landscape Foreman at Blue Ribbon; he started working for Blue Ribbon in summer 2008. He is currently ICPI certified and his extensive knowledge and passion for turning over a perfect landscape project has made Miguel one of Blue Ribbon's most valued employees.  His attention to detail approach on his projects always seems to not only exceed our expectations but the customers as well.  During Miguel's downtime he likes to attend church functions with his family.
Juan has been with Blue Ribbon since spring of 2017, he is currently a Landscape Foreman.  Juan has an amazing understanding and knowledge regarding landscape installation.  He is known for his detailed perfectionism and his positive work attitude which he contributes to "always working smarter, not harder."  When Juan is not working you can either find him at the local shooting range, taking his dogs for a walk or enjoying quality time with his family and friends.
Jose has been with Blue Ribbon Landscape since spring of 2017.  Jose's skills and abilities in the landscape department continue to help catapult Blue Ribbon in a positive direction.  Jose's positive attitude and willingness to help his crew members have made it to where he delivers beautifully finished products.  When Jose isn't working you can find him spending time with his family, going on vacations and making new memories.
Uriel has been with Blue Ribbon since summer of 2019.  Uriel has been installing landscape in new construction homes for over 15 years.  With a main focus in irrigation, grading, and planting, Uriel pays attention to detail and motivates his crew to out perform themselves every time and turn in a beautiful backdrop for your home.  When a deadline needs to be met we are confident in him and his crew that they will meet the deadline and exceed our expectations.   When not working at Blue Ribbon Uriel enjoys taking in the Idaho waters by fishing, and spending time with his five daughters and going on vacations.
Henry has been with Blue Ribbon since 2014, he started out as a Maintenance Crew Leader and has since transitioned to be our Enhancement Foreman.  If your lawn needs spruced up or just requires a little extra TLC Henry is the one to make that happen.  When Henry's not at work improving lawns, you can find him BBQ'ing with his family or out on his boat looking for catfish.
Irrigation Manager/Enhancement Manager
Danny has been with Blue Ribbon since 2013. He has over 15 years of experience in the irrigation field and is a licensed backflow prevention assembly tester and Certified Landscape Irrigation Technician. Danny manages Blue Ribbon's irrigation division and Enhancement department, his main objective is to keep our clients lawns and gardens green and healthy.  Technical training, diagnostic troubleshooting and water conservation are all high on his list of objectives to teach others as well as passing along his experience to the rest of the team. In his spare time, Danny likes to sing and make music. He can play multiple instruments and loves to write.
Danyel came to Blue Ribbon Fall of 2018, he started in our Landscape department and has sinced moved to our Irrigation department in the Spring of 2020.  Danyel has over six years experience in Maintenance and four years experience in landscaping and fencing.  He has been our go to guy for when we need help in any department due to his knowledge and experience in all departments.  When Danyel isn't  working at Blue he likes spending his free time with his family which occasionally takes him fishing, camping, bike riding, or anything that involves being outdoors or at home BBQ'ing with family and friends. 
Kevin joined the Blue Ribbon team in Spring of 2019.  He quickly proved his skills in the irrigation department and with over five years experience, he has become an important asset to the company.   When not working , Kevin enjoys fishing, taking in the Idaho mountains by going on  hikes, but when he can't get away he enjoys taking long walks with his family. 
Miguel joined Blue Ribbon Spring of 2020.  He brought with him four years of farming experience and an additional three years of irrigation experience.  Miguel began in our Landscape department but made the switch three month later to Irrigation, which is a great fit for him because of his background.  Miguel is a quick learner, who enjoys putting in a hard day's work.  
When not working Miguel enjoys fishing, camping, spending time with his kids, fixing up and maintaining his backyard so he can enjoy barbequing with family and friends.
Plant Health Care Manager
Jim is the Plant Health Care Manager for Blue Ribbon.  He joined the Blue Ribbon Team summer of 2020 and has already proven to be a strong leader in the PHC department. Jim has been in the industry for twenty years and loves the challenging aspects of the landscape industry.  He holds multiple applicators licenses which include GP & LS and is constantly continuing his education. 
When not working you will probably find him up in the hills near Idaho City, traveling, out on the tennis court, or barbequing up a meal for the family.
Geoff has been with Blue Ribbon Landscape and Maintenance since 2013.  Geoff is a very dedicated worker and has been a wonderful addition to the Blue Ribbon Staff.  He has over 6 years in the IPM industry and is licensed by the State of Idaho Agriculture Department.  Geoff is an extremely detail oriented worker, he stays up to date on all new fertilization and pest control products.  He loves nothing better than seeing emerald green lawns showing that all his hard work and dedication has paid off.  When not working Geoff likes to play video games.
- Andy & Carla
Home Federal Bank
Schedule with Blue Ribbons Landscapes - Idaho's Best!
Our courteous, professional employees work with skill and passion, and we constantly strive for perfection. Call today to schedule the best landscape services in the Treasure Valley.